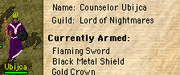 Ubijca is a new GM Junior. His title is Lord of Nightmares.
He can be found wearing a gold crown, GM (purple) robe, and armed with a Flaming Sword.
(Fun note: Ubijca has gained fame for a screen shot, uploaded by the Wizard Sher, on the official site. Link is Oberin.Com's screen shot gallery/humor.)
Ad blocker interference detected!
Wikia is a free-to-use site that makes money from advertising. We have a modified experience for viewers using ad blockers

Wikia is not accessible if you've made further modifications. Remove the custom ad blocker rule(s) and the page will load as expected.