Major Sule Tesdor is a wizard of Marali. Since Nyatha Vaup's disappearance, he has been in charge of the city, together with Major Cesca Andon.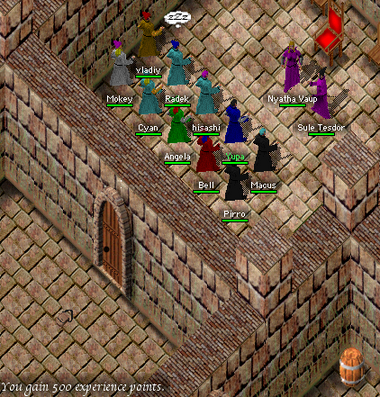 Tesdor is often too busy to be seen by visitors of Marali, not only with his new duties as a city leader, but also with his own research on wizardry and magic. He is the head of Maralian wizards, and it is known that his research team tries to keep up to date with the scientific discoveries of
Oberin
, e.g. they too were seeking to purchase
magic stones
for some private testing at the time of
Seth
's illness. Nonetheless, Tesdor accepted to accompany
Evers
to the Central Island to supervise one of her experiments with the stones in the Waking Moon of 431. He did not seem to be proficient in
Black Magic
, by then, beyond some rudimentary spells.
Tesdor went missing at the same time as Vaup, yet returned earlier telling the Vanguardians that he together with Vaup had been trying to destroy a camp of the Alliance and that Vaup had been lost while getting in possession of a powerful artefact, which has been found to be a gem of the Royal Sceptre. 
Ad blocker interference detected!
Wikia is a free-to-use site that makes money from advertising. We have a modified experience for viewers using ad blockers

Wikia is not accessible if you've made further modifications. Remove the custom ad blocker rule(s) and the page will load as expected.