In 430, Gawr took a year's sabbatical from the Rhovanion Rebels in order to help former Rebel Captain Valerquez to set up the Marali Vanguard, together with young wizard Fuoco, who had been entrusted to his care by the druid Fixx. During his time as a Lieutenant of Marali, he took part in the battle against Jassen and his Mercenaries.
[[1]]
As it was Commander's Vaup wish to improve the relationship with the fishing vilage of Lerilin, Gawr accepted the invitation from Crom and Angelica to join the Lerilin vanguard, then led by Commander Kyshak.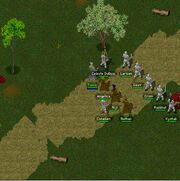 It was in the year 432, on Day 112 of the Dancing Moon, that Gawr returned to the Rebels, his wife Rosina in tow, on the occasion of their wedding. A big surprise was in store for them at Brigobaen when Father Amalphus Vei appeared at the gate to give the couple his blessings, whereas the ceremony itself was conducted at Rebel Isle by Mayor Palmer. Flingee was master of ceremonies, juff was Gawr's best man and Sophina was Rosina's maid of honour. 
[[2]]
The fighter is also a bard who enjoys travelling in remote parts of the land to play ballads at inns and village greens, and he is the keeper of the Rune Sword, a magic and powerful weapon crafted by Andris Senator Nartias Muqities and entrusted to Gawr for the epic battle against the Queen Spider.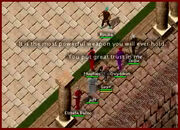 [[3]]
Ad blocker interference detected!
Wikia is a free-to-use site that makes money from advertising. We have a modified experience for viewers using ad blockers

Wikia is not accessible if you've made further modifications. Remove the custom ad blocker rule(s) and the page will load as expected.