Blacksmithing is a Crafting Skill associated with forging Armor and Weapons out of Ferrite. Because it is an economic skill, any character of any class can use it.
For any blacksmithing, you will need a
Blacksmith Hammer
and some
Ferrite
. Obtain the Ferrite from a miner; you can do the
Mining
yourself or purchase Ferrite from another player. You also need to visit a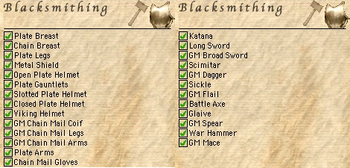 blacksmith
to use their forge. Also, some guild halls have a forge which you can use if you are a member of the guild. GM versions of items are craftable when you have double the level required to make the item. GM items are more durable and damage inflicting than their normal equivalents.
All items smithed beyond level 1 blacksmithing yield 2 success points as opposed to 1.
Note: Carving Knives are no longer craftable through Blacksmithing.
Magic Weapons
Edit
Miscellaneous
Edit