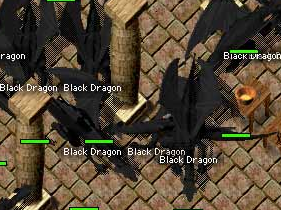 A
Black Dragon
is a very large and tough
creature
, and it is the adult version of the
Black Draco
. Like all Dragons, they have a very strong attack as well as very high
HP
. They also appear Red in
Tracking
. Black Dragons drop much
Gold
,
Dragon Teeth
, and
Dragon Scales
. Some believe that they are found deep in
Crausaar's Descent
, but no expedition has yet survived long enough to confirm the rumour. There are also three Black Dragons living in the
Pit
. The Black Dragon is the second-strongest Dragon, being stronger than the
Forest
,
Sand
,
Ice
, and
Red Dragons
, while only being weaker than the
Abyss Dragon
.